As COVID-19 continues to have an impact on everyday life around the globe, we urge all of our partners and stakeholders, along with the greater TB community, to stay safe and healthy. We stand in solidarity and resilience in the global fight against COVID-19 and hope the world will emerge from this crisis with a renewed commitment to aggressively anticipate and address global health threats and pandemics.
Read TB Alliance's statement.
TB Alliance is engaging in World TB Day events around the globe.
Events for World TB Day 2021 are staying virtual, through webinars, meetings, and social media. Find out more about these virtual activities to raise awareness of the TB pandemic and increase support of TB research and funding. Join the online conversation by using #WorldTBDay and urge global leaders to recognize the need for more research to prevent, detect and treat global health threats. TB Alliance has also developed a social media toolkit to help.
---
NYC World TB Day Conference | Rutgers Global Tuberculosis Institute
Friday, March 19 | 1:00 - 4:00pm ET
2021 NYC World TB Day - "Back to the Future: Threats and Opportunities for TB Prevention and Control". This webinar will address the TB prevention and elimination efforts in New York City, in the United States, and across the globe. Topics will include a review of local epidemiology, research findings, and the TB and COVID-19. Register here.
---
Ending Tuberculosis: How to Save Lives at Home and Abroad | TB Elimination Caucus
Monday, March 22 | 11:30am - 12:45pm ET
March 24 is World TB Day. Prior to COVID-19, TB, also an airborne disease, was the leading global infectious disease killer. The COVID-19 pandemic has set back our efforts to eliminate TB at home and around the world. In the United States, every state reports TB cases annually, more than 80 percent resulting from longstanding, untreated latent TB infection. This briefing will explore why TB remains a leading global health security threat, how U.S. agencies are responding, and what is needed to put the U.S., and the world, back on the path to eliminating TB. Register here by March 19.
---
World TB Day Virtual Parliamentary Event | RESULTS Australia
Wednesday, March 24, 2021 | 7:30am - 9:00am AEDT
Results Australia, the secretariat of the Australian TB Caucus, together with partners is organising a World TB Day Parliamentary Event to raise the profile of tuberculosis and to advocate for a strong commitment needed to end tuberculosis. For more information and to register, please click here.
---
Discovering and developing new treatments for tuberculosis | GARD-P
Wednesday, March 24, 2021 | 9:30am - 11:00am ET
Join Nader Fotouhi, Senior Vice President and Chief Scientific Officer at TB Alliance, for a webinar on the latest updates on discovering and developing new treatments for tuberculosis. Hear more about the TB drug discovery and development landscape today, including TB Alliance's global pipeline and programs, as well as details on a case study for a new therapy for highly drug-resistant forms of TB. For more information and to register, please click here.
---
TB Survivors at Capitol Hill | TB Alliance and Partners
Wednesday, March 24, 2021 | 9:30am - 11:00am ET
Along with survivors, TB Alliance and partners will participate in the fifth annual TB Survivors Hill Day in Washington, DC to connect with representatives and advocates to raise awareness of the global TB pandemic and the urgent need for new TB drug regimens. We are also sponsoring survivors from across the country to meet with their congressional representatives to increase support for government funding of TB programs and to help close the $2.6 billion annual gap in TB R&D funding.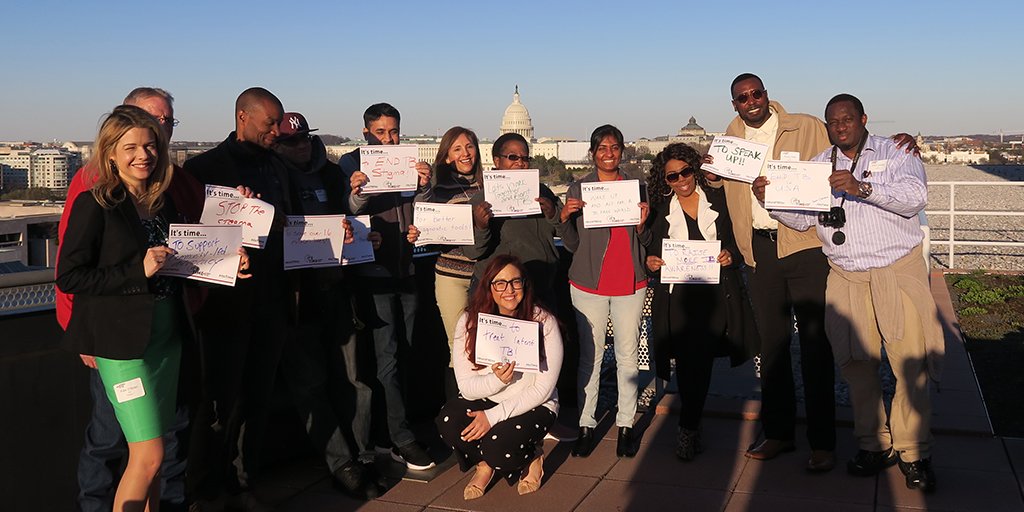 Photo from 2019 event
---
COVID-19 and Tuberculosis: How the pandemic has impacted TB elimination efforts | TB Elimination Caucus
Wednesday, March 24, 2021 | 12:30am - 1:30pm ET
Please join the global TB community on World TB Day for an educational briefing on the COVID-19 pandemic's impacts on domestic and global efforts to control tuberculosis, which prior to the COVID-19 pandemic, was the world's biggest infectious disease killer and continues to be a global driver of antimicrobial resistance. Learn from leading U.S. and global experts on how the pandemic has impacted TB detection, prevention, treatment and the research and development of needed new tools, and the path forward to eliminating TB as a global public health threat. Find out more and register for the webinar here.
---
8th Annual TB Research Day | Stop TB Canada, McGill International TB Centre, and RESULTS Canada
Wednesday, March 24, 2021 | 1:00 - 4:00pm ET
In the light of the on-going development with COVID-19, the 8th Annual Research TB Day that will take place virtually on World TB Day. Find out more and join the webinar here.