Join TB Alliance throughout the month of March to mark World TB Day 2019. #ItsTime to raise public awareness about the devastating health, social and economic impact of tuberculosis (TB) and to end this global threat.
---
TB Alliance is engaging in World TB Day events around the globe.
Among the events being supported by TB Alliance are more than 20 community-level activities, including TB screenings, educational events and political advocacy to raise awareness of the global TB pandemic and increase support of TB research and funding. Explore this map to learn more about 2019 World TB Day events.
---
Local to Global: How to address the TB pandemic | NYC World TB Day Conference
Monday, March 18, 2018 | 9:00am - 5:00pm
This annual conference will address TB prevention and elimination efforts in New York City. Topics will include a review of local epidemiology, using data towards TB prevention, management of multidrug-resistant TB (MDR-TB) and TB and special populations. TB Alliance's Director, Market Access Shelly Malhotra will present an overview of clinical research into new treatments for drug-resistant TB.
---
It's Time to Accelerate Progress to End TB
Thursday, March 21, 2019 | 1:30 - 3:30pm
Join USAID and the National Academies of Sciences, Engineering and Medicine to recognize World TB Day 2019 and learn about the progress that has been made on the six month anniversary of the United Nations High-Level Meeting on TB. For more information, click here.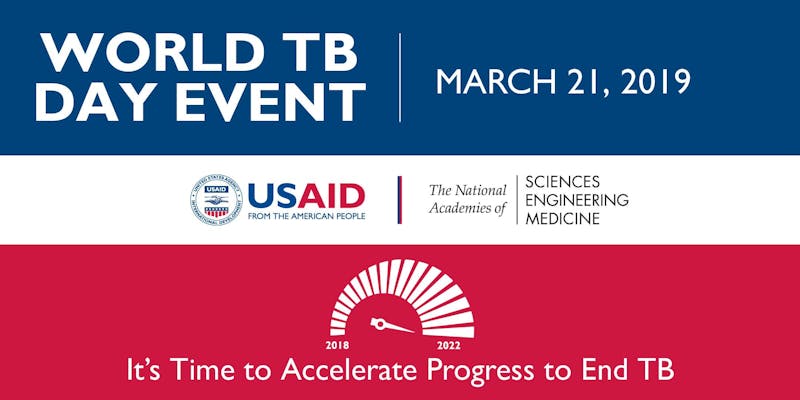 ---
TB survivors take the Hill to increase awareness and support
Tuesday, March 26 - Wednesday, March 27, 2019
Along with survivors, TB Alliance and partners will participate in the fourth annual TB Survivors Hill Day in Washington, DC to connect with representatives and advocates to raise awareness of the global TB pandemic and the urgent need for new TB drug regimens. We are also sponsoring survivors from across the country to meet with their congressional representatives to increase support for government funding of TB programs and to help close the $1.3 billion annual gap in TB R&D funding.
---
Louder Than TB is hosting a documentary screening of Two Countries, Two Choices: India, South Africa and the Struggle against MDR-TB from AIDS-Free World. Georgia White from AIDS-Free World will share introductory remarks.
When: Wednesday, March 27
3:00 - 5:30 p.m.When: Wednesday, March 27

Where: International AIDS Vaccine Initiative
125 Broad Street, Floor 9
New York, NY 10004
As space is limited, please RSVP here by March 15.